Graphite Permanent Mold
Albco was one of the first foundries in the United States to break the mold and couple zinc-aluminum (ZA) alloys with graphite permanent mold casting process. Best practice for graphite mold casting considers .100" minimum wall thickness and 2 degrees of draft. Graphite mold casting coupled with ZA12 produces a solution that delivers short lead times, precision cast tolerances, excellent detail and a superior finish.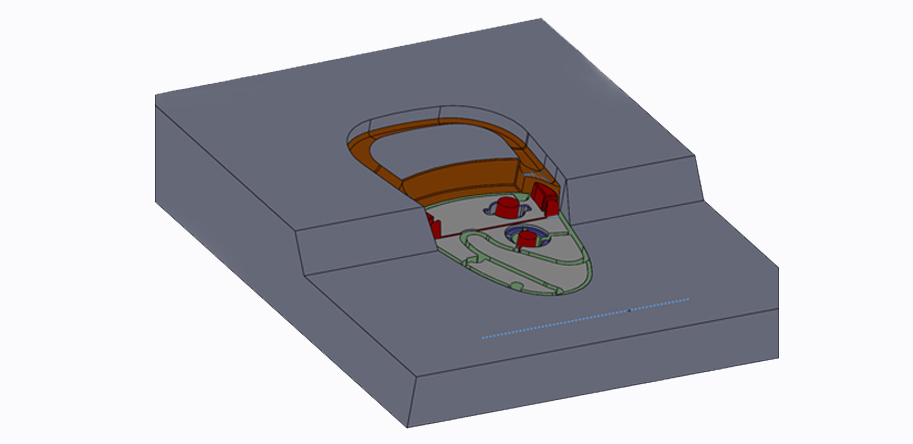 How Does the Process Work?
We evaluate your request and develop a customized plan based on many factors including the part's purpose, size, alloy and desired finish.
Integrated Product Development
We provide the blueprint to create tooling and fixtures by utilizing state-of-the-art SolidWorks and Mastercam software. All elements of your part is evaluated. We consider the functionality, gating, secondary operations and ejector pin locations.
Metal Meets The Mold
Once your tooling is completed, molten metal is quietly introduced into the new mold cavity that is mounted in our proprietary semi-automatic molding machines. We then run samples for validation and provide a pre-production inspection report for your approval. Once approved, expect two to four weeks for production to begin.
Rapid Production
Provided you have files ready to go, graphite permanent mold tooling can be ready to go within five business days. Keep in mind the standard design cycle takes about three weeks to complete.
Advantages of Graphite Permanent Molding
Short lead times
Competitive piece price
Tooling costs half of other casting
Greatly reduce secondary machining operations
Higher degree of dimensional accuracy and tolerances
Bearing qualities eliminate the need for pressed in bushings
Piece-to-piece repeatability and cast surface finish of 125 RMS or better
We can cast ZA-8 and ZA-12 with graphite permanent mold ranging from ounces upwards of 15 pounds. Sizes can be tailored to 10 inches wide, 15 inches long and as deep as four inches.
Let's Talk
Explore how graphite permanent mold casting can meet your manufacturing needs.